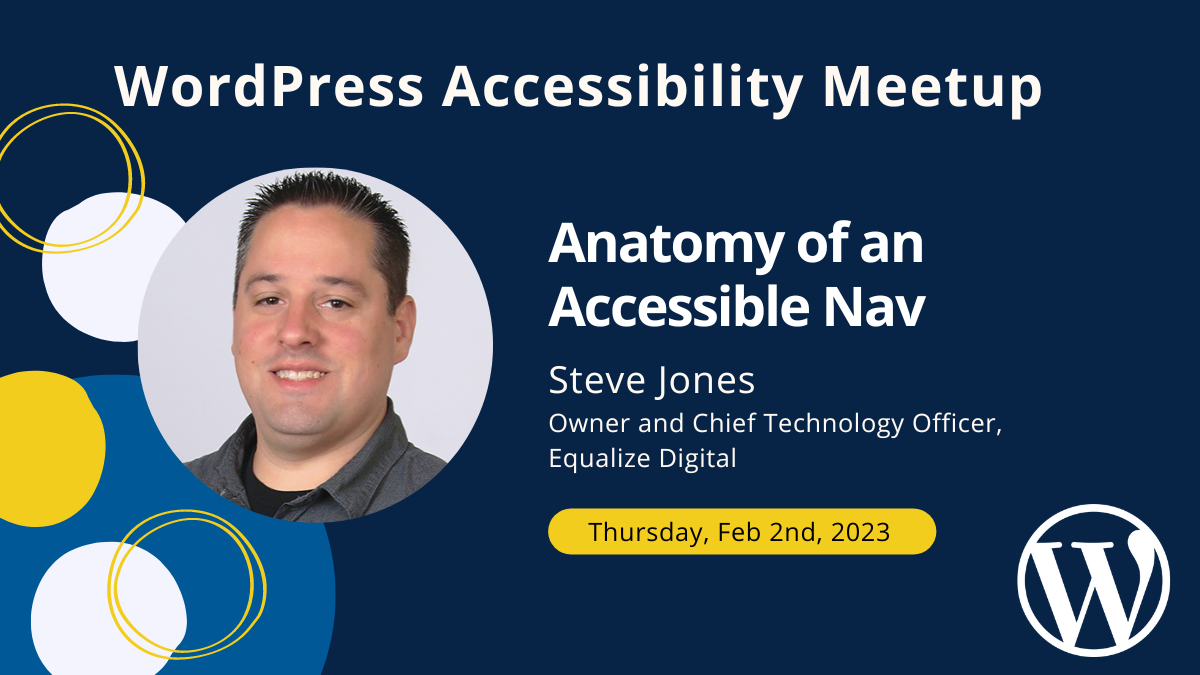 Navigation is the main component of a website when it comes to moving around different pages and finding content. For this reason, it is critical to design and develop an accessible navigation. This means keeping in mind those using different devices and assistive technologies such as screen readers.
An accessible navigation is easy to understand, semantic, and adaptive. In this session, Steve will go over the best practices to design and develop an accessible navigation from start to finish. He'll also discuss how to replace the navigation in an existing theme.
These meetups take place via Zoom and are live captioned. You must register to attend on Zoom.
About Steve Jones
Steve Jones is Owner and Chief Technology Officer at Equalize Digital. Steve has developed highly custom WordPress websites for clients in the enterprise business, higher ed, and government sectors while also being an integral part of developing Equalize Digital's accessibility auditing software, Accessibility Checker.
Event Information
Sponsors
Thank you to our sponsors:
Accessibility & Accommodations
This meetup will be held virtually over Zoom and live captioned, thanks to our sponsors. Slide links will be provided when applicable, and presenters are encouraged to make slides as accessible as possible with alternative text for images, etc.
We're working to secure sponsors so that we can offer ASL interpretation.
All are welcome to attend. If you need specific accommodations to make this meetup work for you, please contact us and we will try our best to accommodate you.
Code of Conduct
Please note that this group is a welcoming space for all. As this event is part of the official WordPress Meetup program, all attendees must follow the WordPress Online Code of Conduct.
By RSVPing to this meetup, you agree to abide by these guidelines. If you have concerns that the Online Code of Conduct is not being followed, don't hesitate to get in touch with an organizer.